Interview with Jean-Matthieu Matisse
The founder of Maison Matisse and great-grandson of the painter, Jean-Matthieu Matisse reveals his aspirations and vision for the brand.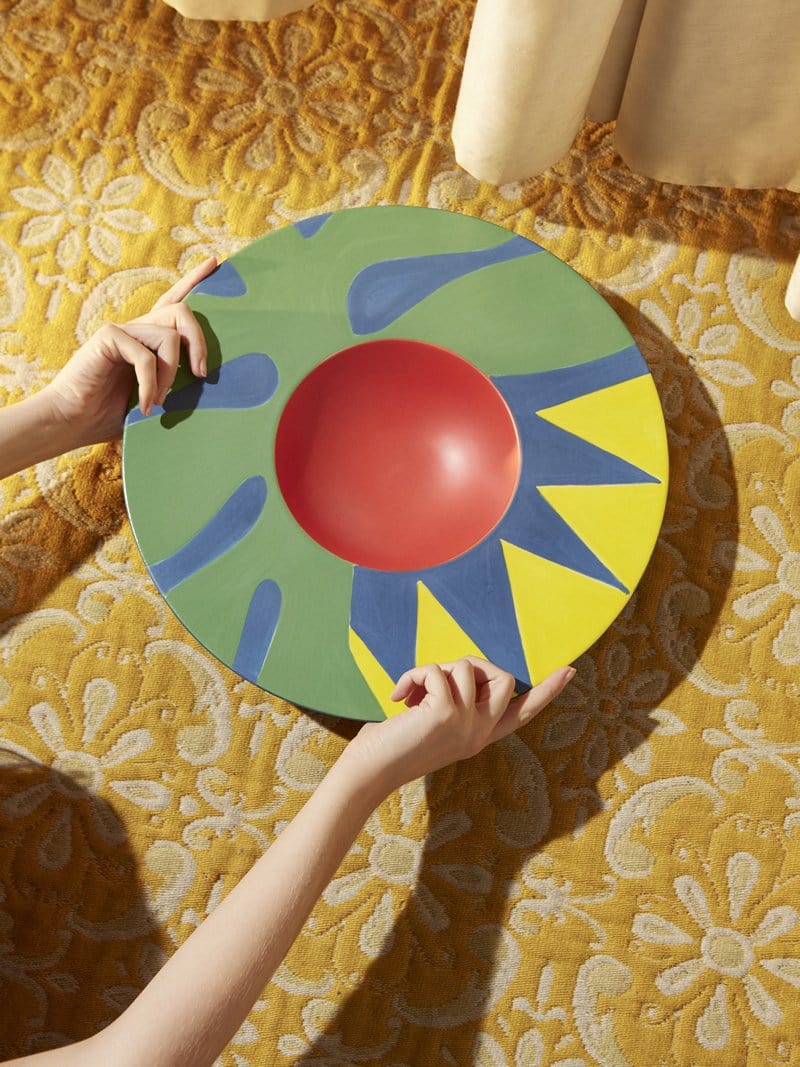 What is your definition of a "home"?
From a very personal point of view, a home is a place inhabited by people and objects. It's a warm and welcoming space for sharing and conveying.
What is your definition of family?
Once again from a subjective point of view, I would say that the word "family" is tied to history, but I also want to reiterate the idea of sharing and conveying. A family shares and passes down a culture, affinities, and values; it bestows the very best. This is what my great-grandfather sought by simplifying his work to its most fundamental form: to convey the beauty of the world and make it accessible to all.
Considering these definitions, how would you define Maison Matisse?
We have worked a lot with the ideas of sharing and conveying so that they are perceptible in our creations and work methods. I would thus say that Maison Matisse welcomes and supports designers in order to share a heritage and philosophy with them, that of Henri Matisse. Our coming together and working jointly with selected craftsmen gives birth to objects endowed with a particular spirit and character. These objects are thus testaments to their own conception, and through them we can perceive the human presence and the notion of know-how. I like to think that something special happens when you live among objects or furniture made by Maison Matisse. You get the desire to touch them, like you do with sculptures.
What were the reasons that motivated you to found Maison Matisse?
All the different branches of our family support the basic principle of preserving the artistic heritage of Henri Matisse. Due to its richness and generosity, his work remains a tremendous source of inspiration for all artists, whoever they may be. However, by observing the sometimes simplistic or erroneous ways in which brands appropriate the Matisse aesthetic, we reflected on how to convey our ancestor's "philosophy" in a personal and coherent manner that is accurate and in line with what we know, what we desire, and what we imagine. The objects are an integral part of Matisse's work, and just like the colors, the designs came naturally through this kinship. This reflection process was quite drawn out since we had to consider the notion of "brand" and what its essence was. Applying a motif to an existing shape didn't interest us; we thought it more relevant that his work should give rise to the shapes and thus the objects. I love collaboration and creation, which is why Maison Matisse was born from the desire to team up with designers and craftsmen in order to convey and share his work in a unique and unprecedented fashion.
Why did you create the Maison Matisse Design Studio?
It was our desire to incorporate young designers into the Maison Matisse Design Studio so that we could work with them in complete freedom. The studio is place for dialog and daily experimentation, where we probably take collaboration further (research) than we do with guest designers. The Design Studio thus expands our collections with products made according to the same high standards of quality, and which target the largest number of people possible since it is always this idea of generosity that motivates our efforts.
What was Henri Matisse's relationship with objects and furniture?
Objects always played a very important role in the life and work of Henri Matisse. He painted them, collected them, and was very fond of them. He brought back many from his travels, particularly from North Africa, Oceania, and Polynesia. He was originally from the North of France, a large region of spinning mills, and his love of textiles can be seen in the fabrics found in his paintings. Since all these objects have remained in the family, we are lucky to still be able to live among them, and today they are a source of inspiration for Maison Matisse.
What is your personal relationship with design?
I'm very receptive to design since I can be emotionally moved by objects, be they decorative or functional. I've always loved objects, especially functional objects that can be found in the home. I love interacting with them and touching them; I compare them to sculpture, which I have a particular fondness for. Objects like sculptures are sensitive; their lives are marked by their weathering. They transform, evolve, and are passed down through time. Through the shapes and colors of the objects we choose, we create an atmosphere that is ours alone. And objects like art withstand the passing of time.
What are your commitments in terms of the design of the brand and as a family? What do you wish to convey via Maison Matisse?
Our objects are made to last. We want the people who live with them to be happy admiring them, to decorate their interiors with them as they wish, and to share them and pass them down. This requires a high standard of quality, and thus the need for the best know-how possible. This is why we have developed a network of the finest craftsmen, who we have taken the time to seek out and experiment with. It is important for Maison Matisse to produce in France or in Europe, even if some of our know-how requires that production occur farther afield. The craftsmen we work with are all specialists possessing unique know-how, and who love and practice their trade with excellence and passion. We take the time to search, create, and recreate with them in order to perfectly produce beautiful and functional objects. To me, promoting and preserving this know-how is vital.
The objects of Maison Matisse seem endowed with a unique generosity; how do you explain this?
Optimism is a value that we hold dear, and I love to think that our collections reflect this kindly and positive philosophy of life. This was the philosophy of my great-grandfather who, in a desire to share beauty, simplified his pictorial language to make it accessible to as many people as possible. Today, Maison Matisse perpetuates this positive spirit and generosity through its creations. The energy of the colors and the harmony of the shapes convey a state of mind, a simple universal optimism.
Who are you creating for?
For design devotees who appreciate color and handcrafted work. For all those who are stirred by Henri Mattisse's work. For those people, particularly from younger generations, who know how to value know-how, durability, and quality over quantity. For those who, like me, love to know the story of an object, from it design to its manufacture. And although our high quality standards place us in an upscale market segment, our strong desire is to create for everyone, far from any elitist intentions.
How has Henri Matisse influenced your own life? What was his place in your family history?
Things are passed down within each family. In the Matisse family, this signifies works of art, values, and a culture. I would say that the works of art should go to museums, but the values and objects ought to remain. I believe that Henri Matisse's influence lies partly in the extreme attention and effort he put into work well done, in his research, in his openness to art and culture, and in his generosity, curiosity, and optimism. We are made aware of art as young children, and we quickly find ourselves perusing museums or books. I didn't meet my great-grandfather or my grandfather, but my father learned to draw with Henri Matisse. As a child, I "naturally" lived among his works without truly realizing their importance. It was only when I was older that I came to appreciate the extent of its force, freedom, and influence.